Bullet In The Head remains as one of John Woo's most talk-about film mainly because of the different versions surfacing around.These different versions contains different cut of the film as well as two different ending to the film.
Now I'm not going to give a description on the two endings as it just might spoil it for the other fans who haven't seen both endings.
The endings are divided into :
Car-chase sequence
This is the ending available to most versions of Bullet In The Head except the Hong Kong Video CD which contains the latter ending.

---
Boardroom Meeting
I must say I prefer this ending to the film,as it's pretty much in the same line as the rest of the film: dark and bleak. It's nice to see how Ben and Paul play "reverse roles" to an earlier scene of the film though some might agrue it made Ben look more like the villian at the end.

---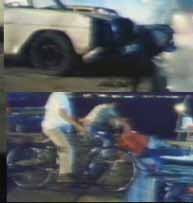 ---